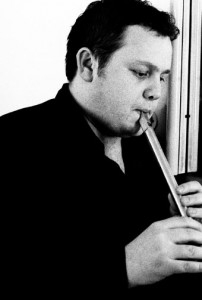 Alan has gained the reputation as one of the most identifiable and respected flute players in Irish music. He is widely recognised as a lead soloist on the Lord of the Rings soundtrack and for his time with the band Gráda that he co-founded in 2001. His freewheeling, "soaring flute playing" was a major part of Gráda's sound. There is a jazzy edge and improvisation element to Alan's playing that has earned him fans in other genres including Jazz and Bluegrass.
Recently he has been making guest appearances and recording's with Damien Dempsey, Declan O'Rourke, Eleanor Shanley, Kila, Emily Smith, Guildwires, Jarŋŋa, & The Barleyshakes. Recently Alan has been managing a studio and has been producing albums. Some of the names he has worked with are Four Men and a Dog, Julie Fowlis, Gerry O'Connor, Tom Moore, Colin Farrell, Mick Mc Namara, & Aglor gospel.
Alan has given workshops and master classes in flute and whistle playing in Ireland, America, New Zealand, Australia, Japan and all over Europe. He has also given workshops in Irish music at both primary and secondary schools all around the world and has taught the tin whistle for many years at primary schools around Dublin.
Alan's warm, positive and professional approach to teaching has earned him a worldwide reputation and has resulted in students travelling from the USA and further a field for private master classes. Now living in Germany, Alan is teaching music in the city of Halle and is still touring and doing workshops all over the globe.