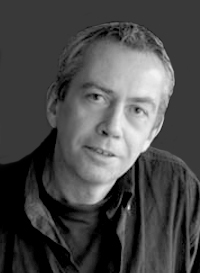 Born in Dublin, Alan Farquharson studied at the National College of Art & Design before joining the R.T.E. Design Department in 1978.
During his career in RTE he designed for every aspect of television production. Studio based programmes include The Late Late Show, Kenny Live, Market Place, and R.T.E. News. The Cork Jazz Festival, Sunday Night at the Olympia, Eurosong, The National Entertainment Awards and the Bank of Ireland / RTE Proms are amongst the outside broadcasts he has designed and he has also worked as Production Designer on many of R.T.E.'s major film productions such as Dear Sarah, Diary of a Madman, The Truth About Clare, Hello Stranger and The Treaty. He was also responsible for the Production Design of the Eurovision Song Contest in Millstreet in 1993 and again at the Point Theatre in 1995.
Since leaving RTÉ as Senior Production Designer in 1996 he has designed several film productions including Night Train (Subotica Productions); A Love Divided (Parallel Films in association with RTÉ), Relative Strangers (Littlebird/Tatfilm); A Secret Affair (CBS/Adelson Entertainment/Metropolitan Films); Custer's Last Stand-up (BBC/RTE) and Love is the Drug (Saffron Films/RTE). His work in television as a freelance designer has ranged from TV3 News to The Nobel Peace Prize Concert 1999 and 2000 (NRK Television).
His work in the theatre includes Take Me Away, Words of Advice for Young People, Improbable Frequency and The Life of Galileo (Rough Magic); West Side Story, A Life, Bugsy Malone and Rent (Olympia); Borstal Boy and Sinbad (Gaiety); An Solas Dearg (Peacock); Deathtrap (Red Kettle) and Luca (Barabbas). He co-designed the set and lighting for The Shape of Metal (Abbey) with John Comiskey.
Recent projects include: Legend (Icebox Films/RTE); The Ryder Cup Opening Ceremony (Longroad Productions/Platinum One); Doubt (Abbey Theatre); The Bonefire (Rough Magic Theatre Company); and The Trestle at Pope Lick Creek (Prime Cut Productions).
Alan is a part time lecturer in Production Design at The National Film School, Dun Laoghaire Institute of Art, Design & Technology and The Bil Keating Centre for Television & Theatre Studies. He has served on the council of The Institute of Designers in Ireland and was a member of the Design Week '97 committee. He has also been responsible for the organisation of the Institute's Student Designer Day on several occasions.