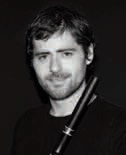 27 year old multi-instrumentalist Barra hails from the traditional music stronghold of north county Dublin. He started his musical journey at the age of 7 when he began learning the whistle in the Clontarf branch of Comhltas and quickly graduated to the flute which he was taught by renowned flute and whistle player Majella O'Beirne. He has toured the British Isles and the United States/Canada with Comhltas Ceoltoiri Eireann, and as the musical director of the Clasac touring group for the last 10 years has travelled extensively throughout Europe and as far afield as China performing at such C.I.O.F.F festivals as Confelons to crowds of up to 60.000 people.
In addition to this, he has played the National Concert on numerous occasions with musicians such as Mick McGoldrick, Jimmy MacCarthy and Altan. He is currently a member of the groundbreaking band Electric Ceili who have performed at festivals such as the Brosella Festival (Belgium), Tonder, Dranouter and many others to packed audiences. He performs regularly with musicians from such bands as Grada, Danu, Cian, Moving hearts and Clannad.
One of the highlights of career to date was supporting Bob Dylan in the Odessy Arena and Pearse Stadium, Galway with singer/songwriter Damien Dempsey and most recently at last year's Electric Picnic festival.