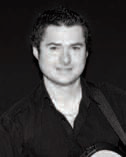 Coming from a very musical family, Bill Martin has been playing guitar since he was fourteen and since then has performed in almost every continent.
He first played in public in 1996 and later started entering local and national talent competitions. In 1999, Bill and his band 'The Dawning' entered the Dunlaven Battle of The Band competition and won Best Original Song category. He also branched out into other instruments, mastering the drums and piano.
An accomplished Irish dancer, Bill joined Michael Flatley's Lord of the Dance troupe in 2000. He toured the world, performing in Australia, USA, Canada, Korea, Mexico and all over Europe. Nevertheless, Bill still performed as a guitarist. While in Las Vegas, he played alongside famous groups such as The Killers and many other well-known American acts.
In 2003, Bill focused completely on his music. He was offered the opportunity to join a group in New York City.Adab hand at various types of music from traditional Irish to Rock and Roll, he was very successful in venues along Queens Boulevard to Manhattan. In 2004 and 2005, Bill did solo gigs in Spain and London which captivated audiences from all walks of life.
Since 2006, Bill has introduced himself to the traditional Irish music scene in Dublin. He performs alongside such famous musician as Jerry O'Connor, who is one of the top banjo players. In October 2009, Bill sang for the opening of the first Irish bar in North Africa. Bill is consistently rehearsing with his original band and is planning to record his own album in the near future.