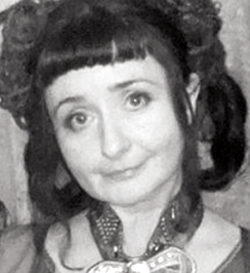 Award winning designer Claire Garvey studied fashion in the National College of Art and graduated in 1991. From there she went on to study a Master's in Fashion and Costume Design at the prestigious Vigik University, Moscow, Russia. On returning to Dublin she started her own fashion label, supplying shops around Ireland, England and America.
She opened her own shop, selling her own designs, ten years ago. The shop is located in the old city, Cow's Lane, Temple Bar, in the heart of Dublin. Claire specialises in unique, hand-dyed, hand-beaded pieces and everything is made on the premises and made to measure. Her clientelle include celebrities, musicans, brides and any occasion ware. She has shown her work at New York and London Fashion Week and has been featured in most publications, including German Elle.
This is not Claire's first dip into the world of performance. Her clothes have been used in many films including Frankie Starlight. She won the Kilkenny Cream of Ireland award for best Irish fashion designer. She continues to thrive and welcomes all unusual commissions. Claire would like to thank her design team, Helen Moriarty and Mary Daly for all their dedication and hard work on this exciting project.