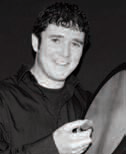 World Champion bodhran player, Conor began playing traditional Irish music from an early age, learning his craft from his family and neighbours. He has featured on many different stages and shows throughout his career and starting out with the successful dance show "CLASAC".
Conor has travelled to such places as China and Tanzania, while also touring extensively throughout Europe with various other high ranking musicians. From a young age, competitions and performances were common place for Conor and in 2008 and 2009, Conor claimed the title of 'World Bodhrán Champion' in both the Solo and Senior Competitions and is now one of the senior judges for this prestigious competition.
He also plays the Bouzouki, a Greek instrument that has come to the fore in Traditional Music for which he is a great exponent of it. Featuring on many group and solo recordings of Irish musicians, Conor's skills on both the Bodhrán and Bouzouki have become to be highly regarded among Irish musicians and he is a highly sought after young musician.