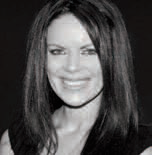 World Title Irish dancer, Eimear began dancing at the tender age of three for the Deirdre Cadwell school of Irish Dance, Dublin. By the age of nine she had succeeded in getting second place in the World Irish Dance Championships. From there, her ambition was to win the World title which she succeeded in doing so twice in succession at the age of fourteen.
Eimear has also won the Leinster title three times, the All-Ireland title and the Scottish National Championships.
Eimear has also toured the world extensively with the Riverdance Flying Squad and was principal female dancer in "Dance on the Moon" which toured Europe, Australia and America before dancing in "Dance of Desire" in Dublin for two years.
In 2004, Eimear got the opportunity to join the "O Shea Irish Dance Company". The show was based in Busch Gardens in Virginia and Florida and during her three years with the company, she was one of the principal female dancers in both of shows, "Irish Thunder" and "Emerald Beat".
Eimear is now doing a Masters Degree in Anthropology at NUI Maynooth and is absolutely thrilled to be given the opportunity to work with Julian and the other dancers in "Celtic Rising – The Show".