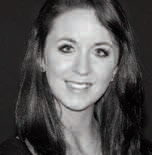 Grace Power, an An Comhdhail dancer has been dancing from the age of four for the Lee Byrne Academy in Dublin. She has won numerous competitive titles including 5 times All Ireland and International Champion, 9 Leinster titles, Great Britain and All England Titles to name but a few. She did her first stage performance at the age of six for the Lee Byrne Academy in Celtic Rhythms show, and danced in the Jury's Cabaret at the age of nine.
As part of the Lee Byrne Academy she has performed in Disneyland Paris in 'The Magic Music Days' festival and as part of the St. Patrick's Day Festivals in Disneyland Paris. She was accepted into the Riverdance Show at the age of sixteen.
A versatile and talented performer, Grace also finds time to study Pharmacy in Trinity College Dublin.