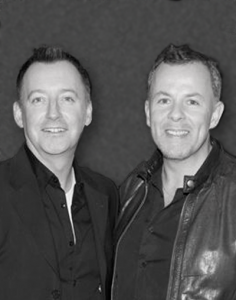 Dublin based couturiers, Niall Tyrrell & Donald Brennan create elegant glamorous evening wear, occasional day wear as well as exquisitely cut tailoring. Their signature is instantly recognisable and they have developed a loyal fashion and celebrity following.
Internationally famed for their breathtaking creations, Tyrrell and Brennan were specially commissioned to design two Oscar award ceremony gowns in 2010 and in the past have designed red carpet, Oscar gowns for Enya and Roma Ryan (Lord of the Rings).
President of Ireland, Mary McAleese and former Miss Word, Rosanna Davison are amongst their high profile clientele.