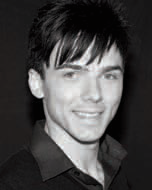 Patrick began his dance training at the tender age of two. Since then, Patrick has won countless awards including, Munster title holder from 1993-2004 and All Ireland Champion in 1995.
He competed until 2004 always placing in the top 4 at the All Ireland's, the British Nationals, the American National's, and the World's. After his competition career, Patrick joined many shows all over the world such as, Seisuin, Ragus, To Dance on the Moon, Spirit of Ireland, Dance of Desire, and Playboy of the Western World.
Patrick was privileged to be the principal lead in the shows Irish Thunder, Emerald Beat, and Gaelforce Dance.
Upon returning home to Ireland, Patrick dances with Celtic Rhythm at the Arlington Hotel, Dublin and with the group Damhsa. Patrick is extremely excited and honored to be part of the overly talented cast of Celtic Rising.
Patrick is represented by Julian Benson Management.