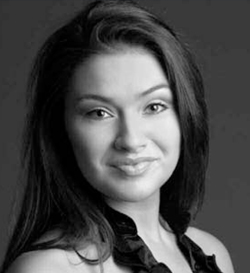 Zara began dancing at the tender age of 6 with the Michelle Lee school of Irish dancing , Dublin. In her competitive career she soon excelled and became a champion dancer, ranking top five in all major competitions and winning many accolades.
She began performing professionally at the age of 15, alongside her academic studies, touring with various traditional cabaret shows and Irish dance shows both in Ireland and around the USA, and at festivals throughout Europe.
At the age of 16, Zara began her association with 'Riverdance the Show' as a member of the Flying Squad. Throughout her final years in school she performed around the world with the 'Riverdance Flying Squad'. In 2003 Zara put her academic studies on hold to tour full-time with 'Riverdance the Show'. Within 6 months of touring she was chosen to be a Principle dancer, a role she was delighted to perform for over 4 years. With Riverdance the show Zara toured extensively throughout Europe, Scandanavia, Mexico, Russia, the USA, Canada, and Asia. Some highlights from her Riverdance days from 2000 – 2010 were performing to packed audiences in Tokyo, The Kremlin in Moscow, the Hammersmith Apollo – London, the Pantages Theatre – LA, ringing in the Chinese New Year in Beijing and performing 4 successful runs as Principle dancer in her hometown in the historic Gaiety Theatre, Dublin.
In 2007, Zara was asked to be a part of Phil Coulter and Sharon Browne's 'Celtic Thunder'. She was the featured dancer in the DVD, which was broadcast throughout the United States on PBS which subsequently topped the billboard charts. Zara performed in 3 tours across North America and Canada to sellout crowds. Some highlights of her 'Celtic Thunder' days were gracing the stage of Radio City Music Hall NYC and the Air Canada Arena Toronto.
Her love of the stage and entertainment has led her to diversify into different aspects of the arts – she studied TV Production and Presentation at the Bil Keating Centre and qualified as an Irish dance teacher, TCRG in 2008.
Zara has danced with many well known acts, such as The Chieftains, and performed for many dignitaries and Heads of State, including Mary McAleese – President of Ireland.
Zara was delighted to be involved both in the production team of 'Celtic Rising – the Show' and on the stage, in her capacity as choreographer, dance captain and dancer. Working with Julian Benson, Eanan Patterson and the talented cast led to its premiere in Dublin in June 2010 and it continued for a successful 4 month run.
Zara currently resides in Dublin and when not dancing she is pursuing her Bachelors Degree in Education and teaches in the Zara Curtis Academy of Irish Dance.
Media appearances include: 'The Tudors' Showtime (USA), RTE (IRE), The Paul O Grady Show( UK), CBBC (UK) CCTV (China) and numerous radio and TV shows in UK, USA, Asia, Mexico.