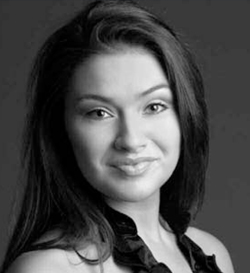 Zara Curtis began Irish dancing at the tender age of 6 with the Michelle Lee school of Irish dancing, Dublin. In her competitive career she soon excelled and became a champion dancer, ranking in the top five in all major competitions and winning the Dublin title.
She began performing professionally at the age of 15, alongside her academic studies, touring with various Irish cabaret shows around the USA and festivals throughout Europe. She became a member of the 'Riverdance' Flying Squad at the age of 16 and has also performed in the renowned Jury's Irish Cabaret, Dublin. In 2003, Zara put her degree in English and History on hold to tour full-time with 'Riverdance – The Show'. Within 6 months of touring with the show, she was chosen to be Principal dancer, a role she was delighted to perform for 4 years. Zara has danced throughout Europe, Scandanavia, Mexico, Russia, the USA, Canada and Asia with 'Riverdance'.
Zara studied TV Production and Presentation with The Bill Keating Centre in 2007 and qualified as a TCRG in 2008. She still performs regularly with the 'Riverdance' Flying Squad. Zara is also the featured soloist dancer in 'Celtic Thunder', a chart topping show released in March SQQY on DVD and on PBS in the United States.
Highlights of her career so far include performing to packed audiences with 'Riverdance' in Tokyo, The Kremlin in Moscow, The Hammersmith Apollo in London, the Panteges Theatre in L.A and performing successful runs as Principal dancer for 4 years in her home town in The Gaiety Theatre, Dublin.
Media appearances include The Paul O'Grady Show (UK), CBBC (UK) and numerous TV and radio shows in Mexico, Japan, Taiwan, the USA and the UK. Zara is represented by Julian Benson Management.